Selling your car with CarDoor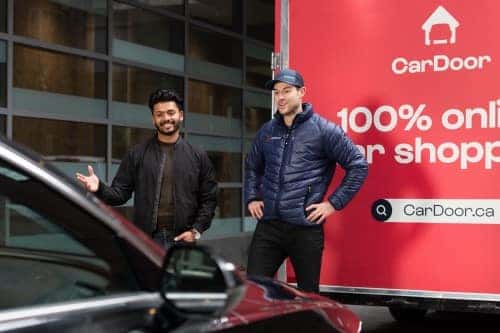 Selling your car with CarDoor couldn't be easier. We're a completely turn-key solution we're you simple submit details of your vehicle and we take it from there. You can just sit back and wait for us to provide a great offer, transfer you the money and pick up your car!
So you know what to expect, here how it works to sell your car with CarDoor.
You enter your vehicle details into our 3rd party, instant valuation tool to get a market estimate for your car (https://www.cardoor.ca/trade-in-estimate/)
The CarDoor team will contact you to get a little more vehicle information like the condition and anything we should know like your asking price or if you have payments remaining.
You then use our simple photo capture tool to shoot a few pictures of your car to help us get the best offer for you. We take care of things like pulling a vehicle history report and connecting with your lender to confirm the outstanding balance if there is one.
Once all of the details are in order, our team will send your vehicle our to our network of potential buyers and begin the process of accepting bids and ensuring you get the most money possible.
Once we get you can offer that you like, we present you with a bill of sale and line up a date and time to pick up the vehicle (if we don't get an offer you like, you have absolutely no obligation to sell it to us.)
On the day we pick up the vehicle, we'll either e-transfer you the money or present you with a cashiers cheque (your preference.)
The final step is to sign over the ownership (on the back of the green ownership paper) and that's it!
At any time, you can reach out to our staff with questions via email, phone, text or chat. Our mission is to provide a quick, safe, hassle-free car sale experience and get you the money you deserve.