Value Your Trade
At CarDoor, we believe in making car shopping and car buying as easy as possible. One way we make that goal achievable for our Toronto customers is by offering a hassle-free way to sell their used cars. Not everyone has the time or desire to become a private party seller — and that's where CarDoor comes in. We will provide you with up to 6 quotes for your car with at least 1 binding offer, so you don't have to worry about posting ads or screening buyers. Then, we'll help you put your car's value toward the new or pre-owned vehicle you truly want.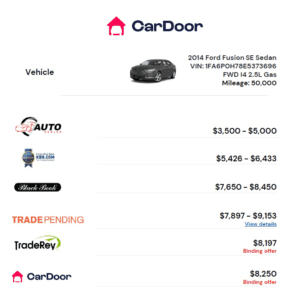 What is the Trade-In Value of My Car? 
If you're wondering, "What is my used car worth," the answer is just a few clicks away! Using our handy value your trade-in calculator, you can get an estimated car trade-in value from the comfort of your home or office. Simply input some information about your car into the trade-in value calculator, as well as your contact information, and you'll have an estimate right away. Keep in mind, there are a few factors that affect trade-in value, including: 
Mileage 

Mechanical condition 

Car features 

Exterior/Interior condition 

Market landscape 
How Do You Trade in a Car?
After you've received your trade-in estimate, it's time for an appraisal of your vehicle! CarDoor can help take care of this step with you. You can either send us pictures of your vehicle, we can send a link to walk you through the process or when we are out delivering a test drive vehicle, we can take pictures and provide an appraisal.  
Once we've examined your car, you can either accept our offer and finalize the sale or pass and take care of it yourself. We pride ourselves on offering the fairest possible offer on trade-in vehicles, aiming to make the trade-in process transparent and simple. In fact, there are a couple of major advantages to selling your car through CarDoor, including:
We provide up to 6 appraisal quotes on your vehicle with up to 3 binding offers, all from the comfort of your home

We pick up your trade-in from your home

If you're upside down on your car loan, you can consolidate what's owed on your current car with the price of your new ride
Value Your Trade-In: FAQs
Q: Can you trade in a financed car?
A: Yes, you can. If you have positive equity on the car (as in it's worth more than what you currently owe), you can trade it in easily. We will purchase the car and pay off the loan, then we will put what's left toward the new vehicle price, giving you a major advantage. If you have negative equity on the car (as in it's worth less than what you currently owe), you may still buy the car and pay off the loan, but the difference will be rolled into your new car loan — meaning you'll still need to pay it off eventually. 
Q: How soon can you trade in a financed car? 
A: There's no time limit that's set in stone, but it's a good idea to wait until you have positive equity. 
Q: What does it mean to be "upside down" on a car loan?
A: Being "upside down" on a car loan is the same thing as having negative equity. If, for example, you owe $30,000 on a car that's worth $25,000, you have negative equity. 
Q: Can I trade in my car for a cheaper car? 
A: If you still owe money on the car, you can trade it in for a cheaper one. If, for example, you owe $15,000 and the car is worth $20,000, we can purchase the car as a trade-in, pay off the loan, and put the $5,000 toward your new auto loan as equity. If you don't owe money on the car and own it outright, there's nothing stopping you from trading it in for a cheaper car; you can do what you'd like with it. 
Let 
CarDoor
help you trade-in your car today! 
If you have questions about how to trade in a car that is paid off, or how to get the best possible offer, don't hesitate to contact us online or give us a call at 437-747-9400. While you're here, be sure to browse our pre-owned cars to start shopping for your next great offer .